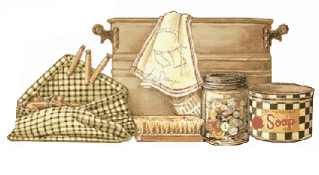 Today is a day of doing my laundry and my Mother'n'Love's. A little over a year ago we came to California to help my husband's mother who is 87 and will be 88 shortly. It seems like our weeks are full now. It was not what we thought we would be doing for retirement, but it was in God's plan.
We are not fond of the area we are in right now. We were use to fresh air in the high mountains of Arizona.
Unfortunately my doctor says I suffer from environmental asthma here. He even told me that another patient moved to Arizona and no longer has to be on inhalers and meds. Of course we have to rely on the Lord and also suffer some to do His will. So here I stay till He directs us differently
Retirement is not what the media tells everyone. I do remember a pastor saying that there was no retirement in the Bible. Of course people get older and their families honored and helped them out in the Bible. They did not question their duty to them.
Responsibility to parents, children, grand children, and friends is something my husband and I were taught from day one. Myself, I am very glad I was taught this responsibility.
I have adult children that have honored and loved us no matter if they believed or thought the same way as we do. It is very comforting to know you have loved ones that will carry on this honorable responsibility taught in the Bible. Especially since at 65 some day if I live long enough, I could be in the same need of being cared for.
My mom had a phrase she use to say that has been handed down over the years. WHAT COMES AROUND GOES AROUND. In other words your example to your children in how you live and treat others-will come back to you-GOOD OR BAD.
Do not misunderstand
, we enjoy our lives. I get to do things with my oldest daughter and her family now. Which means enjoying my grand daughter also that I did not see very often. My immediate family lives in the area too. I have my mother 85, my sister, and two brothers who live here. We have got to do things with them also. We have fun with each other, talk to each other, we laugh, etc. We get to hear neat stories from the past that we never had the time to hear before.
I get to entertain my hobbies also of sewing, scrap booking, crochet, doing puzzles, Blogging, etc.
It is a joyful life of enjoying the people that God put in our life from day one. Our parents, grand parents, aunts and uncles, their friends, then your friends, on and on it goes. This is not to say we all agree with each other, but we do respect, enjoy and care for each other. We try to not let outside influences come in and destroy that either. Which can include any number of things.
We will most likely return home to Arizona some day, but that will be in God's plan and timing for us too. Well I guess today was a day of reflection on living in the circumstances the Lord puts you in.